My little love turned 13 months, yesterday!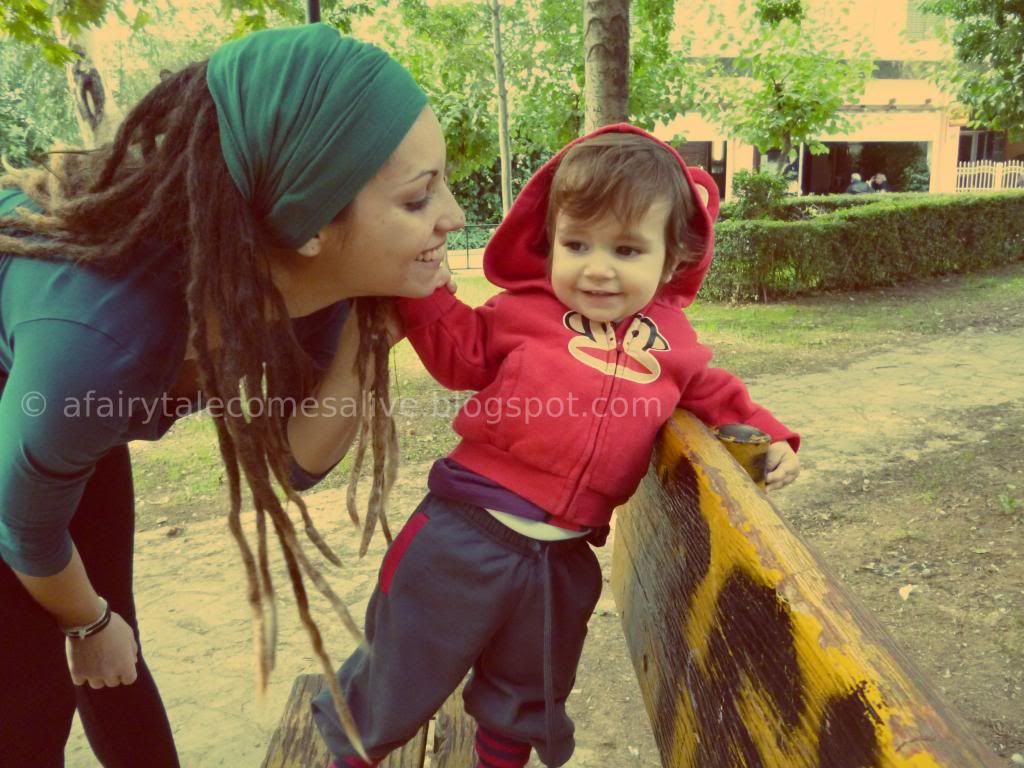 While he grows up, it gets more and more exciting! He does all these cute baby things that makes us smile and fill with happiness.
This month (the day after his birthday, specifically), he managed to mime elephant and lion's sounds!! Yes, I know, every baby begins with the doggie and the kitty. He had to be different and I had nothing to do with it, I swear! I mean, ok, I got this little book with the animals of the jungle with sounds when he was 3 months (and he has been obsessed with it lately), but I was also showing him other animals, too. We have a doggie and way too many cats in the neighborhood. I didn't see this coming...
Other things he does are: clapping (I thought he'd never do it), laughing a lot, "brushing" his teeth, "brushing" his hair (he has done it with a comb, a shoe and a mushroom so far), feeding Maya (the doggie), throwing stuff and carefully watching us as we pick them up (all the time).
Still no walking, I guess he's still really excited with crawling. He loves ''walking" while holding a chair or his walker, though. Oh, he loves dancing, too! Whenever we put on some music, he shakes his hands and head like crazy. He does that with the vacuum, the blender, the cellphones etc., what can I say? This boy loooves dancing.
Among the good stuff, sickness knocked on our door. Right after his birthday, Nereus got sick. Then, I got sick and now Nereus is sick again. We have been sick pretty much all month! That really made me feel bad because I thought my breastmilk would provide him the antibodies to stay healthy forever! Silly.
I felt bad for something else too. Nereus's blood tests showed low iron status. I was devastated. I was trying so hard to offer the proper nutrition and I failed?! And what would our pediatrician say to me? And what about our relatives who NEED to find a reason to make us eat meat...? Phillip took the blood tests to our pediatrician and without asking me, he told the doc about us being vegans. As a surprise, the doc said it didn't matter and that many people have low iron status no matter the diet (I already knew that, but it's always such a relief to hear it from a doctor). Wow, thanks doc!
Love & Peace
Krysta